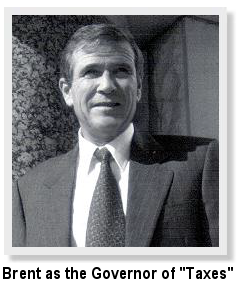 Brent Mendenhall's
uncanny resemblance to President George W. Bush was first recognized in the mid 90's by some friends in Dallas. Brent began doing the impersonation as a funny, non-professional imitation for friends and family, and eventually graduated to Leno's Tonight Show and beyond. Brent brought his act to national prominence in much the same way President Bush told Sam Donaldson he pursued the Texas Ranger deal - " Like a pit bull on the pant leg of opportunity!"

The Missouri native had been a construction and marketing executive since his graduation from the University of Missouri in 1971. During this time, Brent was active in local community theater, as a civic group toastmaster and as a construction industry business speaker. A career as a Presidential look-alike followed.

Brent's and the President's lives have had several parallels through the years. This definitely helps Brent with the understanding of the Bush character he portrays. For instance, both of them grew up in politically active families with a strong mother running a household consisting of several boys and one girl. Baseball was their favorite sport. Both received business degrees and were more involved with fraternity and campus activities than they were the books. After graduation, both pursued business interests similar to their fathers and joined the Methodist Church. Both married in their thirties, and coincidentally, they each cut back on their partying in the mid eighties. Both have two children. Ambos hablan Espanol, no el mejor. Mr. Bush bought the Texas Rangers and subsequently became Governor of Texas and President of the United States. Mr. Mendenhall became an entertainer and humorous corporate speaker.

Brent strives to present a characterization that is humorous, intelligent and tailored to the client's gathering. He takes pride in providing clients with their full money's worth.